1st Form: Art & Science Trip to the Royal Botanic Gardens, Kew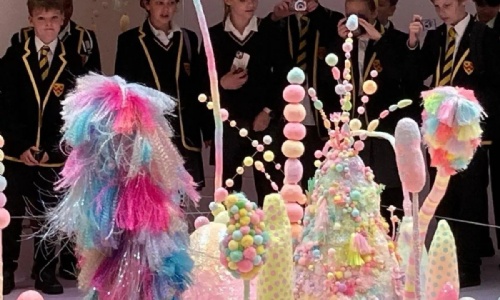 Oratory 1st Form attended the Royal Botanic Gardens at Kew for a joint Art and Science trip on Tuesday.
In Science, pupils took a turn at solving a forensic science "crime" committed in the Temperate House, also known as the Goldilocks House (if you can, ask the 1st Form why!). The scoundrel was then apprehended after excellent investigative and forensic work.
In Art, pupils explored the wonderful world of Pip and Pop, aka Australian artist Tanya Schultz, in a new exhibition titled 'When Flowers Dream'. The pupils revelled in the colourful collection of artefacts and multimedia installations as well as exploring some of the botanical art in the Shirley Sherwood gallery. The wonderful installations were reminiscent of fantastical cityscapes and had otherworldly qualities which fired our pupils' imaginations. Questions were asked which revolved around ideas about colour, the visible light spectrum, the function of art versus science, as well as ideas about visual narratives and Pop Art.
Combined with the stunning weather, pupils had a full and fun-packed day with new skills acquired and lots more ideas about investigations and recording the world around them.