L6th Form Day of Recollection 2023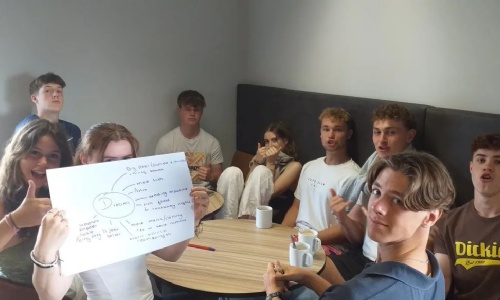 Our L6th Form Day of Recollection took place during the last week of term on Thursday 29 June. Part 1's theme was 'Discover' where pupils discussed what they love about school and their Houses. Part 2 was then 'Dreams', where pupils decided on what they would we love to see and the changes they would like to make. After lunch, the themes progressed to 'Design', where pupils considered which of their dreams were achievable and which ones they would like to move forward with, prioritise and represent when they become U6th Formers in September.
The final theme of the day was 'Deliver' - now that the pupils are armed with wonderful ideas, how are they going to implement them and make them happen as U6th Formers? We are excited to hear more on these new ideas in September!
The day was then celebrated with Mass on the Feast of SS Peter and Paul and to give thanks and reflect on all that has been achieved. Well done everyone and we look forward to working with you!