L6th Form Workshop with Raghav Parkash (OO 2004-2008)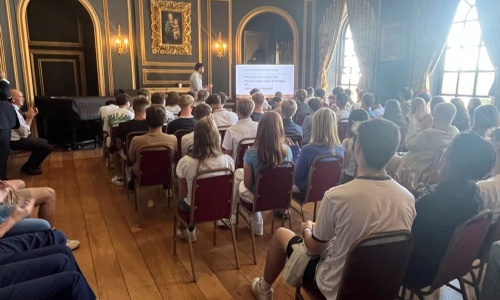 Old Oratorian Raghav Parkash (OS 2004-2008) delivered an excellent workshop to the Lower 6th on Monday 4 September as part of the induction day for our 6th Formers.
Raghav is an award-winning Executive Life Coach based in London. He works with people from a variety of sectors such as CEO's, Entrepreneurs, Directors and Business Leaders, enabling them to fulfil their potential. He carries out coaching, seminars and workshops.

His bespoke interactive workshop to the Lower 6th Form focused on motivation, resilience, and confidence. He asked the pupils to consider what success and confidence meant to them.
We had a chance to catch up with Rag after the workshop.
How does it feel to be back to deliver a motivational talk to our pupils entering their 6th Form?
"It was an absolute honour and very humbling. Memories came flooding back to me from my time at The Oratory and how surreal it was for me to now be on the other side, presenting to the students instead of being sat in the room as a student. Humbling and an honour because my experiences and life at The Oratory have fundamentally shaped a great deal of who I am and the work I do today.
I know the challenges and joys involved with being a student facing the pressures of 6th Form and A Levels. It meant a great deal to me to come back and share some ideas, strategies and tools with the L6th, to help them feel more focused, get the most out of their schooling life, and perform/succeed with much more ease through the academic tests ahead of them."
What is the takeaway advice you'd like them to have understood by the end of your session?
"Success is something you attract by the person you become. If you want success across any part of your life and work, focus on becoming the person whereby success is therefore a natural result and inevitable.

Who we are, and the person we are drives everything we do and think and what we achieve.
Setting inspiring, meaningful and personal goals is essential for focus and gaining more from yourself.
Impossible is just a mindset and if you can go beyond what you believe you can do, be, achieve, you may just surprise yourself.
80% of success comes down to mindset. 20% is your action, skills and talent.
Everyday, focus on one action and step that your future self will thank you for."

Following the workshop, Dr Moses, Assistant Head (6th Form), reflected "It was a delight and a privilege to meet Raghav and to work with him. His presentation set the tone for the year, and students were particularly engaged with those important notions of becoming and being what we hold to be dear; of acting with immediacy better to fulfil ourselves in our ambition. Raghav's obvious knowledge, insight and openness were key to his engagement with our young people. He was well-received and greatly liked, and he has made many friends at The Oratory. We look forward to welcoming Raghav back as soon as we can!"
Thank you, Raghav, for leading this inspiring workshop.
.