Oratory Rugby Centenary Dinner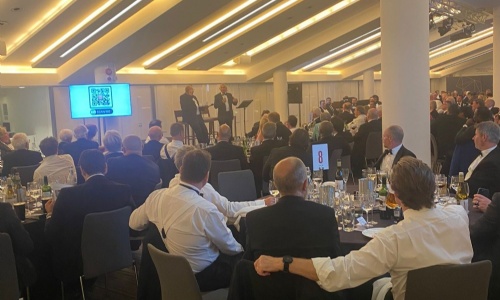 On Saturday 16 September the Oratory School Rugby Club celebrated its centenary in the very fitting Spirit of Rugby Room at Twickenham Stadium.
We welcomed over 200 guests, including Old Oratorians of every generation and their families, ranging from the 1950s to recent school leavers. With us that evening were also current and former members of staff, parents, and governors of the school.
The Rugby Club has played a central part in the life of The Oratory School, and we were delighted to welcome so many who have been instrumental in developing the game at the school.
A special mention must go to the undefeated 1985 first XV who made every effort to get to the dinner, and celebrated reuniting after 38 years.
We were also honoured to welcome Sir Ian McGeechan, OBE, a legendary figure in the world of rugby and one of the most respected figures in British sport. He was interviewed by Dick Best and delivered fantastic anecdotes, comments and predictions on the Rugby World Cup after the dinner.
A huge thank you is due to the sponsors and supporters of this event. Old Oratorians Sam Borg (OS 2003-2008) and John Connelly (OS 1962-1964), current parent Peter Briffett, and former parent Simon Grenfell. We are very grateful to you for your generosity. We were also delighted to welcome Old Oratorian and former professional rugby player Ben Pegna (OS 1987-1994), who spoke to us about his work with the charity Head for Change, and his involvement in The Big Rugby Swim.
Our Head of Rugby, Mikey Hennessy, reflected: "It was wonderful to conclude the school's Rugby Centenary celebrations at the home of rugby, Twickenham and fitting it took place during the Rugby World Cup. It was great to see so many people in attendance and to share memories of rugby at The Oratory. Sir Ian McGeechan was an excellent speaker, and I am very grateful for his support, and the support of our sponsors."