Loquitur: Building your own Personal Media Brand by Michelle Peterson Clark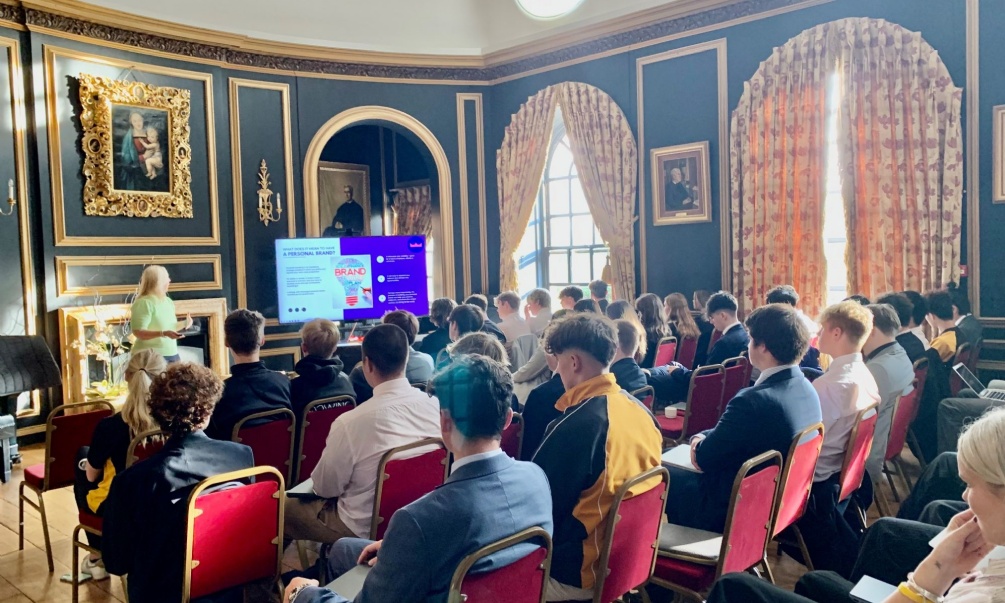 On Tuesday, Michelle Peterson Clark gave an engaging presentation to L6th Form about how they can prepare for their future careers once they leave The Oratory.
The presentation was crafted around the idea that to stand out in university applications, or to future employers, pupils needed to do something 'more' than just have good grades in A-Levels.
As competition for top level university places increases and the job market becomes tougher, learning how to promote yourself and your skills by developing your own brand, will become critical.

Effectively, whether you have a traditional career working for someone else, or desire to run your own business, learning to market yourself and the unique skills you can bring to the table is vital in today's digital world. Part of the process the students undertook included a values exercise, where they were asked to identify those aspects and characteristics they currently live by or wish to aspire to be known for. These were then used to think about how they would like to present themselves in a professional capacity.
Lastly, pupils began the first step towards their future by creating a LinkedIn profile for themselves, with Michelle providing ideas and guidance on what they should and could include.
As an Oratory parent, Michelle was delighted to spend this time with our young people of character to assist them with crafting their futures after they leave school.
An Oxon graduate, Michelle has been a marketing specialist for over 15 years and is an international conference speaker, author, and podcaster. Her 'brand', Content Marketing Queen services clients in Australia, the United Kingdom, Europe, and the USA.
We'd like to thank Michelle for taking time to assist our students with thinking about how to present themselves and build their own brands, to enhance the opportunities they may receive after their Oratory life.