Old Oratorian & former Rugby Union Player Ben Pegna leads 'The Big Rugby Swim'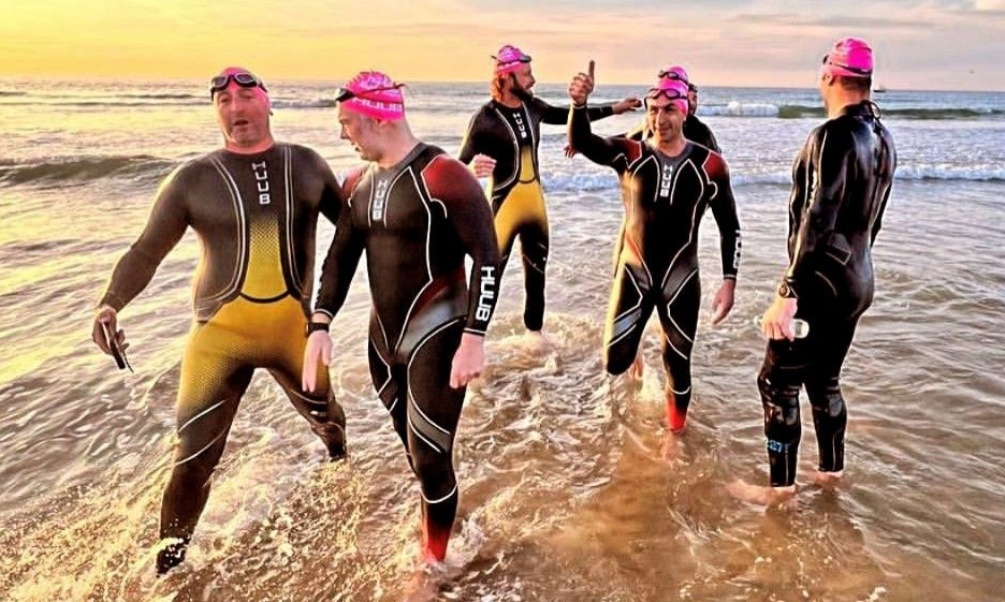 Old Oratorian and former Rugby Union player Ben Pegna (OS 1987-1994) led a relay Rugby Union team last weekend as part of The Big Rugby Swim.
Ben is one of several former Rugby Union and Rugby League professionals who took part in the challenge, which took place between 7 - 12 October - a "worldwide first" for an event of this nature - to raise awareness for the charity Head for Change.
Ben boarded at The Oratory from 1st Form to Upper 6th Form, having moved to Woodcote from Dubai. An immensely gifted athlete with a talent for rugby, football and athletics, he was one of only three players awarded full colours for rugby in his U6th year. Speaking of his time at the school, Ben says, "It was like living the dream - playing sports with my friends every single day in these stunning grounds and being taught values that have defined who I am today."
Since, leaving The Oratory, Ben has represented London Scottish and Saracens in the UK and the Leopards in South Africa, whilst also being an England 7s squad member. He has coached at Academy level with Wasps and London Scottish, in Super Rugby with the Bulls and the Melbourne Rebels and internationally as the Performance Analyst with England 7s and as a technical advisor to the WRU.
Head for Change is a start-up charitable foundation, pioneering positive change for brain health in sport and supporting ex-players who are affected by neurodegenerative disease due to their professional sporting career in football or rugby. Ben says, "The work Head for Change are doing to support those who already have brain injuries is so important, and to date not enough has been done by the various governing bodies to support people who have found themselves in this position.
When I joined the team for The Big Rugby Swim in July this year, I had no idea what an incredible experience it would be. My first thought was, of course 'how am I going to get ready to swim the Channel in 90 days' time?'
The journey to get ready individually and as a team and then to complete the swim itself was one of the most challenging but ultimately rewarding experiences of my life."
Remarkably, the Rugby Union team, led by Ben, completed the swim in 13 hours 41 minutes, with the Rugby League team finishing in 14 hours 58 minutes - both under the current average time of 15 hours for relay teams to swim The Channel. Now that's a crowning stroke!
Sky Sports has documented the teams' training in a four-part documentary, which aired last week, and The Oratory was delighted to be able to film part of the series here with Ben on the school grounds in Woodcote.
For further information on Head for Change and how to support this important cause, please visit headforchange.org.uk.