Oratory Rowing at Marlow Town Regatta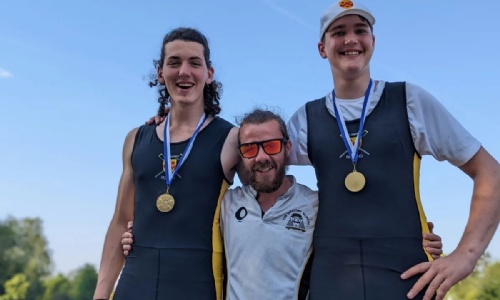 It has been a fantastic week of training and racing on the river in the sunshine which culminated at Marlow Town Regatta on Saturday 10 June.
Marlow Town Regatta is always a highlight of the Oratory Rowing calendar and involves a race over 900m in the local town. The racing got off to a good start with our senior J18 quad taking the win in their heat against Magdalen College 'A' and narrowly losing to Sir William Borlase School in the final.
Our J18 quad were closely followed by the 5th Form Girls' Double of M. Duncan and H. Charles who put in a competitive performance in their heat, taking an early lead before being overtaken by Headington, and racing Falcon Rowing Club throughout the whole race.
The middle of the day saw more quads racing with our 3rd Form girls and 4th Form boys, who were competing in their respective age groups against stiff competition and learning lots of lessons in side-by-side racing.
In the evening, the 5th Form girls rounded off their coxed four summer racing campaign with E. Bowers, K. Stewart and H. Heat-Davey joining the double and working hard against a fast crew from Headington School in the final.
The 5th Form Boys' Double of W. Harper & F. Karstens was a highlight of the day, taking comfortable wins in both their heat and final to take the medals in the J16 Doubles event, well done!
Oratory Rowing activities continue this week with the OSBC dinner on Friday and on Sunday 3 July, 4th and 5th Form crews will be racing at Thames Valley Park Regatta in Reading.