Oratory L6th Form Pupils visit Oxford University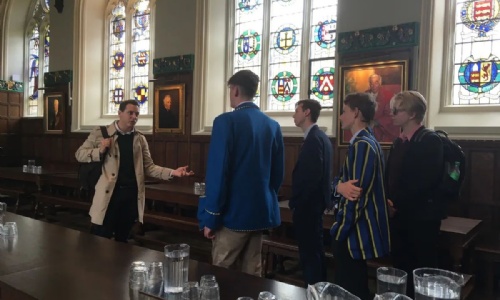 Our great thanks go to Old Oratorian, Dr Max Lau (OS 2001-2006) of Worcester College, Oxford University for the most informative and stimulating morning for our Oratory L6th Formers.
Dr Lau showed pupils around Oriel College, where he was a student, and then Worcester College, where he currently holds his research fellowship. Dr Lau spoke at great length about all aspects of life in college, and discussion went on to cover preparing for competitive applications, interviewing, preparatory study and reading, and the expectations of undergraduates once in a college. During his time at The Oratory, Dr Lau was House Captain of FitzAlan and Captain of the Boats.
Dr Moses, Assistant Head (6th Form) says, "This was a tremendously informative, not to say atmospheric, morning. We thank Dr Lau for the generosity of his time, and for sharing his knowledge and enthusiasm with us."