School Captains for the Academic Year 2023-2024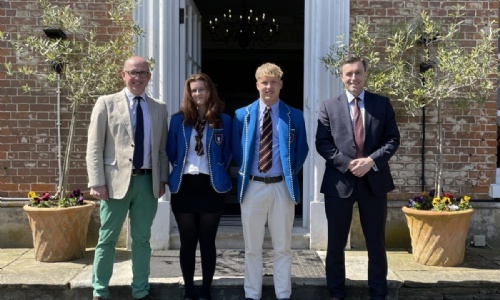 For the academic year 2023-2024, The Oratory is delighted to announce that the Captains of the School are G. Clark (St John) and A. Parry (Wootten).
G. Clark says, "I have worked hard for this role throughout my time here at The Oratory. I am looking forward to working with Dr Murphy and the team."
G. Clark joined the school in 3rd Form, having previously studied at The Oratory Preparatory School.
A. Parry says, "The Oratory School has allowed me to grow so much from the very start of my time here as a Wootten pioneer girl of 2020. I am very excited to inspire others to make the best of all the opportunities offered here at this brilliant school."
A. Parry the school in L6th Form having previously studied at Kennet School in Thatcham.
The interview process for the role of School Captain at the school is rigorous and made up of five rounds. Firstly, the pupils must be officially submitted by their peers as a recommendation to the Deputy Head Pastoral, Matthew Fogg and Deputy Head Academic, Matt Syddall. The nominated pupils then make their own decision on whether they would like to apply for the role by sending in a letter of application, which is then followed by interviews with Mr Fogg and Mr Syddall. A shortlist is then created and a second interview takes place with the Head Master. This year, both pupils were interviewed by My Smith and Dr Murphy. The final round is then back to the pupils, who vote for their preferred candidate of five.