1st & 2nd Form's 'Careers in STEM' trip to Silverstone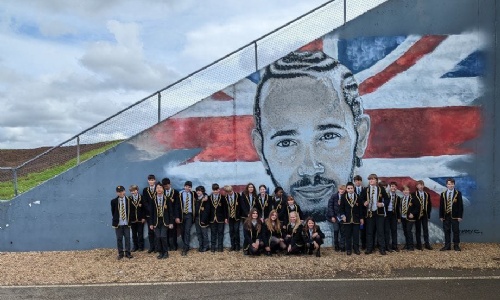 Oratory 1st and 2nd Form went on a Careers in STEM trip to Silverstone this week. The main focus was on careers in the Motorsport industry. Pupils were fascinated to learn that over 1.9 million different people work to successfully put on a Grand Prix, and 1,000 people work on each of the different F1 cars.
The trip involved a historic track walk, a chance to watch some Porsche 911s speed around the aptly named Woodcote corner, and a workshop. Pupils were able to try on racing helmets and pick up the different styles of tyres used by F1 cars.
The final element of the trip was the Interactive Museum. Pupils had a go at racing on a Scalextric model of the Silverstone track and learned about the History of Silverstone and the science that goes into racing. The highlight of the museum was the Braun GP 001 F1 car that Jenson Button won his driver's championship in in 2009, and the Le Mans Porsche 962.