The Oratory Celebrates the Coronation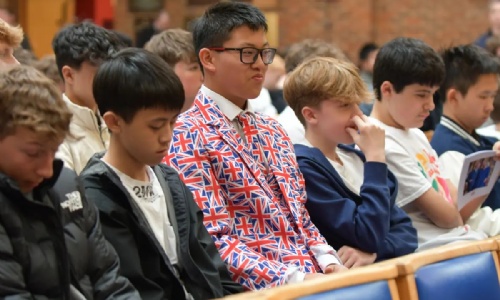 The Oratory organised a series of events to commemorate the Coronation of their Majesties King Charles III and Queen Camilla in the week leading up to the official ceremony.
The English department ran a Coronation Poetry Competition where pupils were tasked with creating an illustrated poem entitled 'Ode to the King' or 'If I were a King for a Day'. The deadline for entries is today (we cannot wait to read them all!) and the winners will be published in the School Magazine.
In Art and 3D Design, pupils learnt about how King Charles III is a keen watercolour painter and practiced their own watercolour skills with self-portraits. They also had fun trying on contemporary interpretations of St Edward's Crown.
Celebratory cricket matches took place on Wednesday vs Lord Wandsworth College, featuring delicious red, white and blue cupcakes at match tea.
On Thursday, an Inter-House Coronation Bake Off with the theme 'Fit for a King' took place. Judges were blown away by the amazing creations of our pupils (photos below). Later that day, CCF cadets raised the Union Flag and cheered for The King.
Friday 5 May saw The Oratory's celebrations culminate with pupils and staff encouraged to wear red, white and/or blue clothing and a special commemorative Coronation Service, which included King Charles' favourite hymn, 'Be Thou My Vision'. A street party Coronation Barbeque then followed, featuring the Coronation Quiche and King Charles' official playlist.
In addition to all the brilliant activities above, collections were made throughout the week for Wallingford Food Bank as part of The Big Help Out initiative, which aims to mark The King's Coronation by helping our local communities.