Head Master in Conversation with former School Captain, Kene Ejikeme (OS 1995-2000)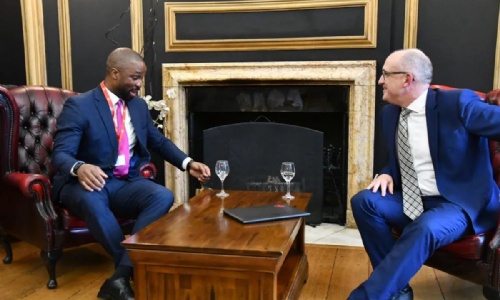 On Thursday 27 April, The Oratory 'Head Master in Conversation' series of events continued with Old Oratorian Kene Ejikeme discussing his career with Head Master Joe Smith. It was standing room only, as family, pupils, Old Oratorians, former teachers and parents gathered to listen to Kene speak about his memories of the school, his professional rugby career, and his impressive rise to making Partner at Goldman Sachs EMEA.
The conversation got underway with Joe asking Kene about his experience at The Oratory. As expected, rugby featured heavily, as did Ancient Greek, Adelphi Society and Maths. Kene praised the pastoral care he had received at the school as a full-time boarder for 5 years.
This led on to his experience playing professional rugby and having to balance the gruelling training sessions with studying and working.
Talking about Kene's choice of university, Imperial College, he cites the profound influence of his father. Kene also spoke about how he was able to transfer the skills he has acquired as a professional athlete and as an engineer to his current role at Goldman Sachs.
Kene shared his experience interning at Goldman Sachs, and how grateful he was that the company gave him the flexibility he required at the time to balance his rugby career. He spoke about the importance of investing in your employees in order to retain them.
Discussion then turned to Kene making Partner at Goldman Sachs, and in particular his tireless work on Diversity and Inclusion.
Questions were asked from the Oratory community covering topics such as tips for securing work experience, FinTech, building resilience and faith.
Thank you to Kene Ejikeme and to his family for this inspiring talk. The Oratory Community is very proud to call you an Old Oratorian.
To watch the conversation in full, please click here.