Oratory Head of Racquets wins Ladies Real Tennis World Championships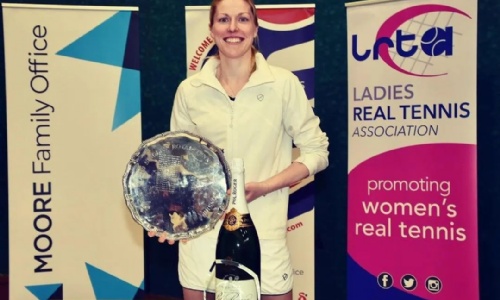 Congratulations to our Oratory Head of Racquets, Claire Fahey, who retained her Ladies Real Tennis World Championship Singles and Doubles titles this weekend at the Ladies Real Tennis World Championships 2023, hosted by The Oratory School.
In the Ladies Singles, Claire beat Lea Van Der Zwalmen in a thrilling final to win her seventh world singles title, held since 2011. Claire now overtakes Penny Lumley (six titles) as the most successful player in the women's game.
The Doubles final match of the day saw Claire team up with Tara Lumley to take on Lea Van Der Zwalmen and Saskia Bollerman, which ended 6/4 6/5 to Claire and Tara. Once again, this is Claire's seventh world doubles title and Tara's second.
Claire says, "I am over the moon to win my 7th World title. To have played it in front of a sell-out home crowd made it even more special. The support I've had from the school, my colleagues and pupils has been fantastic."
Joe Smith, Oratory Head Master says, "Mrs Fahey is a real inspiration to our girls, and all our pupils, and it was a privilege to watch her in action in the final and to see close-up truly elite attitude and performance."
Photo credit: Tim Edwards, Plough Studios