The Oratory Choral Day with Alexander L'Estrange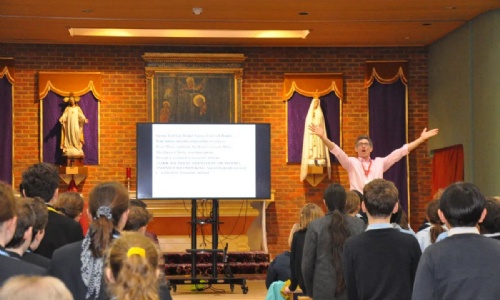 We were privileged to have the celebrated composer and choral workshop leader Alexander L'Estrange at The Oratory on Tuesday 21 March. He led a group of over 150 pupils from a range of local schools, and our own 1st Form, in a wonderful workshop day.
Alexander L'Estrange has led singers in choral workshops throughout the UK, from school halls to the Royal Albert Hall. His belief in the importance of singing in our schools and communities informs his compositions and, using these as a vehicle, he teaches choirs about rhythm, groove, style, audience communication, presentation and so much more.
During the workshop the children explored and performed his 'children's cantata' Zadok Rules – Alleluia! This piece tells the complete story of the Kings and Queens of England (and Scotland!) in the space of 10 minutes to the music of George Frederick Handel. It is of course a particularly apposite topic for us all at the moment with the Coronation of King Charles only a matter of weeks away. Our First Form pupils all agreed that this was a fantastic day, that Alexander was energetic and really engaging.