4th Form Physics Experience at iFLY and Hollywood Bowl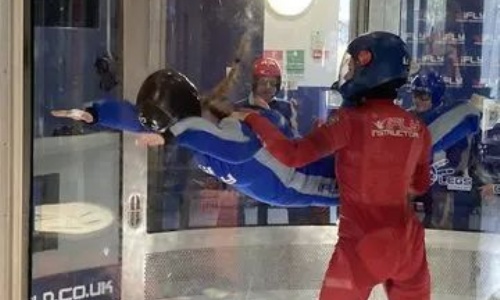 On Thursday 16 March 70 enthusiastic 4th Form pupils and seven intrepid staff members set off to Basingstoke for a day of fun and Physics as our British Science Week events continued.
At iFLY, they were able to feel the unforgettable sensation of flying, something that few people ever get to experience. In the indoor wind tunnel, which is 12ft in diameter and with wind speeds of up to 165 mph, each pupil got the closest to experiencing terminal velocity that it is possible to get without jumping out of an aeroplane. They were also able to each undertake a 'high-flight' with the instructor flying them around the tunnel and up to the top, a small taste of what it is like to fly as a pro.
Flying clearly worked up an appetite and it was time for cheese and bacon burgers and fries on the lanes at Hollywood Bowl. There are some keen and very competent bowlers among the group and competition was fierce, but the highlight of the day was AW's trick shot as he bowled backwards through his legs in a very convincing reverse shot culminating in a perfect strike!