The Oratory BSW23 Lecture to Local Primary Schools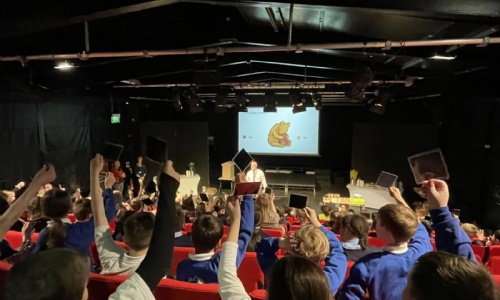 On Tuesday 14 March, The Oratory School in South Oxfordshire welcomed over 100 local primary school pupils and staff from Englefield, Caversham Park, Goring and Woodcote Primary Schools to an interactive lecture on 'Bee Buzziness' in celebration of British Science Week.
The lecture theme was on how bees are some of the hardest working and most important creatures on the planet and how we owe a lot to this amazing, yet still often under-appreciated, little animal.
The lecture offered pupils and staff a chance to discover more about the science of beekeeping, the history behind our love of honey, and how it is possible that this tiny insect is responsible for a third of everything we eat.
The event was hosted in The Oratory's Hilaire Belloc Theatre by Mr Nigel Todd, teacher of Biology and the keeper of our wonderful Oratory Bees and hives. As part of the talk, pupils were able to take apart an empty hive and look at where the bees live and what they do. They also took part in honey tasting, learning about the important difference between supermarket blended honey and varietal honey, which is made predominantly from the nectar of a single type of flower. At the end of the lecture, each pupil was given an Oratory-branded beeswax lip balm.
Nigel Todd says, "We were delighted to see so many young enthusiastic pupils learning about bees, their ecological importance and the fun stuff of trying on a bee suit, getting hands on with the components of a hive, and, most importantly, tasting honey! We hope to have inspired some future Apiarists."
The Oratory has celebrated British Science Week with an exciting, action-packed week of science themed events. There is a Physics Experience trip to iFly, the opportunity to go on a 'moss safari', daily "who wanted to...?" quizzes on Teams to see how well we know our Oratory Science teachers and finally the annual 6th Form Science Dinner, an evening of molecular gastronomy for all L6th and U6th pupils taking A Level Science subjects.