The Oratory Celebrates British Science Week 2023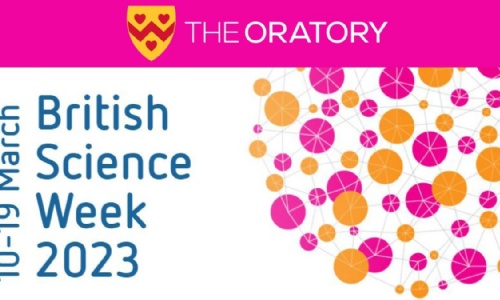 Today is the start of Science Week at The Oratory and we have an exciting, action-packed week of science themed events ahead of us for both pupils and staff!
Tomorrow we welcome over 100 local primary school pupils and staff to an interactive lecture on 'Bee Buzziness'. Bees are some of the hardest working and most important creatures on the planet. We owe a lot to this amazing, yet still often under-appreciated, little animal. The lecture offers a chance to discover more about the science of beekeeping, the history behind our love of honey, and how it is possible that this tiny insect is responsible for a third of everything we eat. The event will be hosted in the Hilaire Belloc Theatre by our very own Mr Todd, teacher of Biology and the keeper of our wonderful Oratory Bees and hives. As part of the talk, pupils will be able to take apart an empty hive and look at where the bees live and what they do.
On Thursday, pupils will head off on a Physics Experience trip to iFly Basingstoke, where they will receive virtual training in skydiving techniques before taking individual flights in a vertical wind tunnel. This will be followed by a trip to Hollywood Bowl where pupils will play a round of Tenpin bowling using the physics of bowling as an example to consolidate ideas around forces, motion, momentum and inertia; followed by lunch on the lane.
All non-exam classes will have the opportunity to go on Safari this week and try to spot the Big 5... Elephants are boring, so we are doing a microscopic moss safari to view the interesting life forms found in this extreme habitat!
Throughout the week, there are daily "who wanted to...?" quizzes on Teams to see how well we know our Oratory Science teachers. There is currently divided opinion between 2 members of staff on "who wanted to be a tree surgeon when he grew up?" The next question, which you can ponder overnight is "who wanted to grow up to own a safari park?"
Our Oratory Science Week will end with our annual 6th Form Science Dinner, an evening of molecular gastronomy for all L6th and U6th pupils taking A Level Science subjects. This fun-filled evening will include escape-room style activities and the opportunity to discover the science behind some quirky culinary concepts. Pupils have been asked to adhere to a smart dress code that incorporates a "science twist" in their attire. Photos to follow!