U6th Form Retreat Day to Holy Cross Priory, Leicester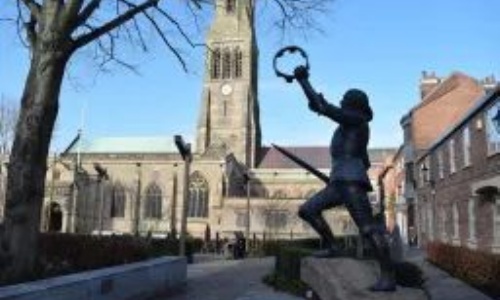 On Tuesday 17 January, U6th Form pupils went to Holy Cross Priory in Leicester for a Day of Recollection with Fr David Rocks, Mr Fogg, Deputy Head Pastoral and Miss Deane, Chaplaincy Assistant. It was an important opportunity in the life of our U6th Form as it was their last chance to take some official time out together before mock exams and public exams.They discussed a variety of themes focusing on their hopes and dreams for the future, as well as pondering the importance of human dignity.
The guest speaker was Revd Canon Dr Johannes Arens, former Canon Precentor of Leicester Cathedral, who spoke about the reinternment of Richard III. He spoke about the ecumenical effort involved in the reinternment, ensuring that Richard III was treated with dignity and honour.
Following lunch and a short trip into town, the pupils organised a Mass, preparing the music, sacristans, and readings themselves. It was a wonderful opportunity to celebrate and draw together the themes of the day.