6th Form Loquitor Talk with Sophia Lerche-Thomsen, CFA, DipFA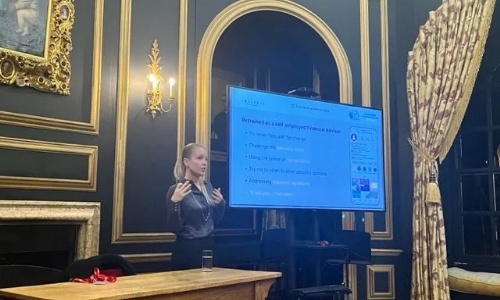 On Tuesday 10 January, we welcomed Sophia Lerche-Thomsen, CFA, DipFA as part of our Loquitur series, who delivered an excellent talk on careers in the financial sector to our 6th Form.
Sophia is a Chartered Financial Analyst and Financial Planner at Frizzell Wealth Management, a Senior Partner Practice of St. James's Place. Prior to that, Sophia was based in Dubai and working for Schroders Asset Management.
Sophia talked about her choice of course and University, the importance of placements while at University, and gaining work experience. She spoke candidly of having to suddenly leave Dubai due to COVID, which gave her the opportunity to retrain as Financial Planner. It was inspiring to hear about Sophia's willingness to make changes within her career when she didn't believe she was in the right job, and how she successfully navigated 3 career changes in 10 years. Sophia was a great role model for our pupils, teaching them that they don't have to 'get it right' at 18, to have a rich and rewarding career that they will love.
Thank you to Sophia for this inspiring talk.