Oratory Pupils' Final Dinner Service Charity Fundraiser at Pavilion Foods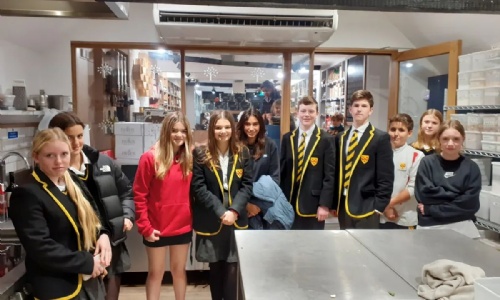 During the last week of Michaelmas term, Oratory pupils had the opportunity to host a 'Final Dinner Service Class Charity Fundraiser' as a grand finale to their cookery lessons at Pavilion Foods in Henley.
The event involved pupils showcasing their new-found culinary skills to their parents and teachers, with money raised on the night going to the school's chosen charity, Reading Launchpad.
The following delicious menu was served:
Starters
Garlic dough balls
Pea and mint soup
Main
Rotisserie roasted chicken
Broccoli and cauliflower cheese bake
Brussel sprouts with teriyaki glaze
Dessert
Apple Crumble and custard
Mince Pies

Micah Judah, Owner & Managing Director of Pavilion Foods reports:
"It's been a pleasure hosting the Oratory students at Pavilion this term. From the first class during which the students learnt how to make a roux and vegetable cheese bake, through to running a full dinner service for 28 guests, they have made impressive progress through the term and should be really proud of their achievements.
They owned all elements of the final food service, from food prep through to front of house service and even pot wash! It was a great opportunity for them to get an insight into working in hospitality, whilst reinforcing key skills such as time management, food safety and communication.
It really was a lovely evening and great that the students made such a big contribution towards an amazing cause. To make everything from scratch and run a full service is a great accomplishment. I look forward to seeing what they can produce next term!"