The Oratory's 1st XI Hockey Team win Berkshire League for Second Year Running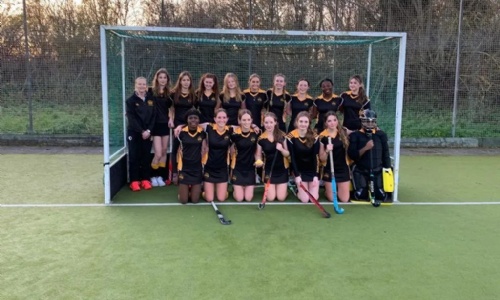 The Oratory is delighted to announce that its 1st XI Hockey Team has secured the Berkshire Hockey League title for 2022, having previously won the title in 2021 during their first ever competitive season.
The Berkshire Hockey League consists of 7 other teams that include Claires Court School, Holyport College, Leighton Park, LVS Ascot, Reading Blue Coat, Reddam House and Shiplake College. The Oratory 1st XI played 7 games, winning 6 and losing 1 match throughout the season.
The 1st XI Hockey Captain, Kitty Nutt, led the team with incredible displays of skill and goal scoring ability, which make her the 1st XI top goal scorer. The rest of the team worked diligently, each contributing in their own way to the 1st XI's success.
Victoria Watson, Head of Hockey says "This is a fantastic achievement for our young ladies, and we are so proud of all their efforts, watching them improve and develop as a team throughout the season."
The Oratory's Berkshire Hockey League win follows on from the success of their U14's Hockey Team, who became Berkshire Plate Winners earlier this term. These wins highlight The Oratory's proud tradition of sporting excellence, with all pupils given the opportunity to play in all major sports and to represent the school at county and national level.