A Level Success at The Oratory for 2023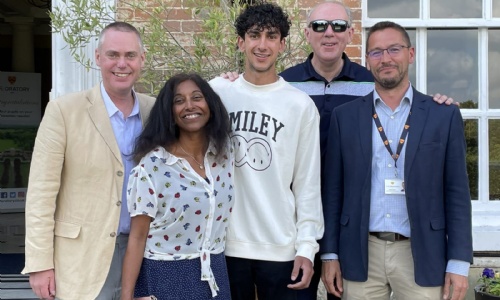 After a return to the reality of pre-pandemic grading in public exams, The Oratory School today once again celebrated the success of its A Level pupils who have attained commendably after two years of hard work. Grades have again risen beyond national averages with A*-B at 55% and A*-C at 77%, whilst the majority of pupils have again gained entry to their first choice universities.
There were of course many strong individual performances including: Jungle He with 2 A*s, 1 A and 1 B (Duke University, USA); Charlie Charles with 1 A*s and 3 As; Cynthia Chen with 1 A* and 2 As (Engineering and Architectural Design at UCL); Georgina Ashby (English at Exeter), Evie Hobbs (Business Management at Cardiff) , and Josh Sidhu (Biochemistry at Warwick), all with 1 A* and 2 As; Ignacio Estevez Sanchez-Bedoya and Albert Stark, both with an 2 As and a B. There were also many personal success stories on the morning of the results.
Departmentally there were some excellent results with 100% A*-B in 3D Design, History, and Further Maths, 80% A*-B in French and Photography; there were also 78% A*-B grades in Art, 64% A*-B in English Literature, and 60% A*-B in Spanish.
The Head Master, Mr Joe Smith says: "In the context of the much publicised return this summer to grading arrangements from 2019 and earlier, I am pleased with the results which our young people have achieved this year. These were the first public examinations which these young people sat, their GCSEs having been cancelled in 2021, and so they have performed well in these circumstances.
In terms of statistics it is pleasing to see well over half of our students achieving grades A*-B at A level, and the improvements on our 2019 results. Perhaps most pleasing is to see the majority of our students gaining acceptance to their first choice destination, including some very competitive courses and highly prestigious institutions.
I want to pay tribute to the class of 2023 for their resilience, application and good humour, as well as all the many things they have contributed to the life of The Oratory beyond the academic sphere. Their teachers too deserve our thanks for their skill, effort and commitment."