5th Form English Literature: Macbeth Performance and Workshop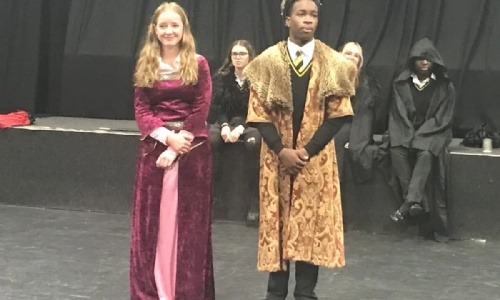 The entire 5th Form was treated to an afternoon of Shakespeare produced by the theatre company, Drama Impact, who The Oratory have worked with for the past few years.
The group thoroughly enjoyed an inspiring performance of Macbeth from the three actors, followed by a workshop based on ghosts and hallucinations, culminating in the infamous banquet of Act 3 Scene 4 and the reappearance of Banquo.
The whole afternoon was based around the focus of their IGCSE English Literature coursework, 'Unnatural deeds do breed unnatural troubles', and it greatly enhanced their understanding of the play. Many pupils couldn't wait to don traditional costumes and act on the stage, with the murderers being the most coveted roles, complete with prop daggers!