Geography's Biogeography Fieldwork at Studland Bay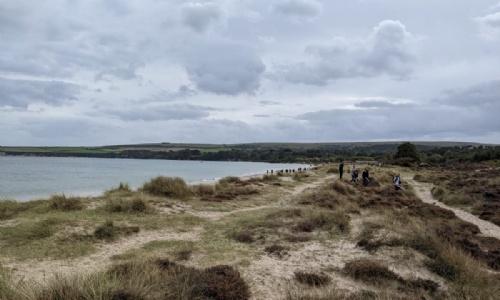 Earlier this term, 4th Form Geographers had an exciting opportunity for practical fieldwork at the beginning of their GCSE course. They spent a memorable day studying at Studland Bay in Dorset. Travelling across from Sandbanks on the Poole Harbour ferry gave an exciting entrance to the South Haven Peninsula!
Pupils spent time investigating this unique and protected environment, its management and developing their geographical skills. Observations were digitally logged using our GIS survey software. This enabled mapping and analysis of results in a sophisticated visual display once back in class. Pupils experienced the huge array of diversity within this environment and witnessed many of the pressures acting on the unique and precious Site of Special Scientific Interest. They sampled and studied the dunes considering how vegetation and life adapts to new land and changing environments.
This week the 5th Form are out on their GCSE Geography Human Fieldwork considering the regeneration projects in Portsmouth.