The Oratory's Iceland Tour 2022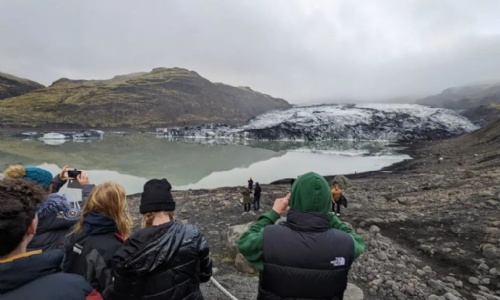 A definite highlight of Michaelmas term so far has been The Oratory's Iceland Tour 2022. Mr Poynter, Head of Geography, writes:
The Icelandic adventures began as we turned north flying out of Heathrow! As we approached Iceland, the volcanic landscape with its black, basalt rocks, green lichens and red and yellow mineral deposits immediately caught our attention.
Pupils were out exploring the coastline and geothermal features within minutes of leaving the airport. Eating in central Reykjavik in the evening was followed by an elusive search for the Northern Lights as we walked back to the hotel.
The following days were packed full of amazing sites and activities as we explored the south coast towards Vik with our fantastic tour guide. Staying in the remote countryside gave us experience of the challenging environmental and weather conditions and several pupils also found immense interest in the substantial vehicles necessary in these areas!
Highlights of the visit included hikes up to some of Iceland's immense waterfalls, seeing the thermophiles in the hot bubbling springs and mud pools, watching the Geysir, Strokkur explode 100s of feet into the air and walking along the edge of Solheimjokull, an outlet glacier from the fifth largest glacier in Iceland.
Pupils also visited a geothermal power station and learnt how we can use renewable resources to generate enough electricity and hot water to power an entire country. The group were then given first-hand experience of how this provides luxuries to the locals, spending time relaxing in a geothermally heated outdoor swimming pool at the Secret Lagoon!
Pupils particularly enjoyed adventuring deep into Earth's crust on a journey through one of Iceland's thousands of lava tubes. We visited the Mid Atlantic Ridge's rift at Thingvillir National Park and walked between the continents.
Culinary highlights included sampling cake baked in the hot earth and eggs boiled in the scalding river!