Oratory School GCSE Joy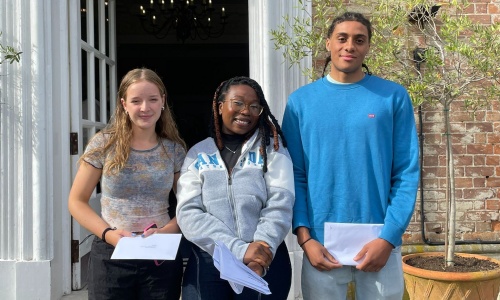 The Oratory School has again celebrated a successful set of GCSE results coming in well above the national averages with: 18% of grades in the 9-8 category; 35% at 9-7; 87% at grade 4 or higher, the latter percentage showing a gain of 9% on the school's 2019 statistics, the last time that grades were awarded in a similar fashion.
Once again there were some very strong departmental performances, particularly from: Chinese with 100% 9-7; Music where 86% of grades were 9-7; Chemistry in which 67% or grades were at 9-7; Art and Design, where 58% of grades were 9-7; English Literature and History, where 56% or grades were 9-7; Biology, in which 53% of grades were also 9-7.
The Head, Dr Julian Murphy, said in reaction to the results: "I am very pleased for this year group, who have done so well in the first year of 'normal' results since 2019. A huge thank you to all our teaching staff and, of course, to the students themselves, for their hard work and dedication. Particular praise must go to Florence Gibbon, who achieved eight grade 9s, two grade 8s and one grade 8 in Further Maths; Joseph Morgan, who achieved six grade 9s, one grade 8 and one grade 9 in Further Maths, and Uti Osayuh, who achieved four grade 9s, four grade 8s, one grade 7 and one grade 6. I hope that all the students enjoy a well-deserved celebration with their families before they start their 6th Form journey."
There were of course many other personal success stories on the day and staff were on hand at school to celebrate these with the pupils who turned up to collect their results.