Pre-season Rugby and Hockey Training in Portugal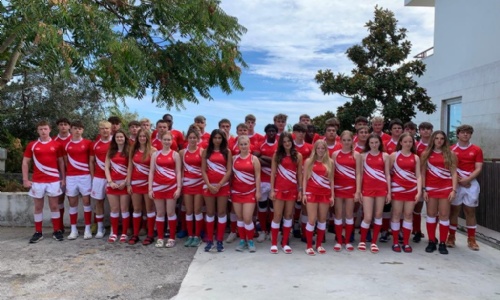 In the final week of the summer holiday, 44 pupils travelled to Portugal for a pre-season Rugby and Hockey tour.
It was an eventful week that saw the boys play rugby and girls play hockey against local club sides, whilst also having the opportunity to use the training facilities at the National Sports Centre of Jamor.
The fixtures themselves, played against Cdul, Agronomia and Casa Pia, were hard fought contests that have set the sides up well for the upcoming season and saw some noteworthy performances. Indeed, Imogen Martin was named as the Hockey Player of the Tour whilst Rocco Vallebona was selected as the Rugby Player of the Tour.
Alongside the sport, the group were able to spend time enjoying the sites of the city of Lisbon, surfing lessons and the beach. There was also time to relax at one of two hotel swimming pools or Colombo Shopping Centre, Portugal's largest shopping centre.
It was no doubt a memorable week for those who took part in the tour and an excellent way to start the new sporting season.