Oratory Rowing at Henley Royal Regatta & U16 GB Trials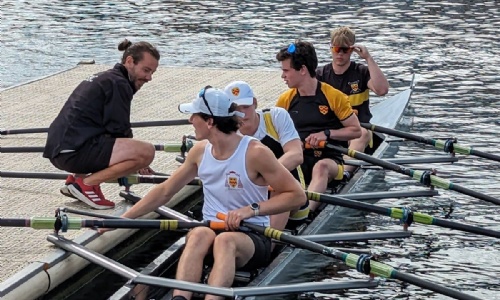 The final Oratory Rowing events for the season took place last week with qualifying races at Henley Royal Regatta and the U16 Great Britain Trials in Nottingham.
On the evening of Friday 23 June, our Quad Scull (J. Gosling, W. Harper, F. Kastens and R. Griton) raced determinedly in their time trial to try and secure a place at the prestigious Henley Royal Regatta. They improved on last year's result, beating 10 other school quads, however they were not quick enough for the qualification time. For a young crew with two U16 pupils onboard, it was an impressive effort. Well done all!
The final race this term saw W. Harper racing alone in his Single Scull for a place on the Great Britain Junior 16 team that will race against France this summer. He competed along with the 13 best scullers in his age group and finished 5th overall. There is more to come from W. Harper in his rowing future and it has been a long time since an Oratory pupil has performed at this internationally competitive level. Keep an eye on future Olympic teams - we expect Will to be there, not so long from now!