Oratory Rowing at Thames Valley Park Regatta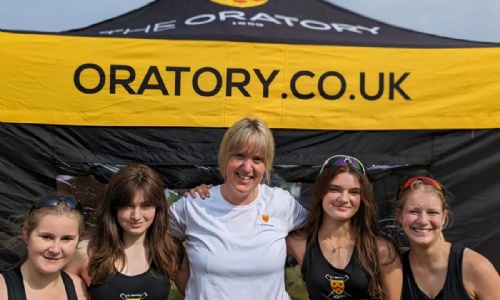 Sunday 18 June saw a fantastic day's racing at Thames Valley Park Regatta in Reading.
Oratory Rowing crews won several races and the early start was soon rewarded with W. Harper securing a 3 length win over Itchen Imperial and Henley Rowing Club. Soon after, K. Stewart and E. Bowers secured an 'Easily Won' verdict over their opposition from Shiplake Vikings. H. Charles and M. Duncan raced competitively against fast opposition from Putney High and Wallingford Rowing Club, losing narrowly. After several clashes with Canford in the Boys J14 quad (Moorhouse, Wheat, Doyle, Adamson and Madoc-Jones), Canford were disqualified for impeding our boat speed and a re-row saw a narrow loss to RGS High Wycombe.
In the afternoon, Baker, Maynard, Briscoe, Thompson and Stevenson put up a brave race against quick crews in the J14 Girls' Quads, narrowly missing out on progression to their finals.
One of the highlights of the day was the high paced Boys' U15 coxed 4s, which saw all three crews through the finish line still overlapping. It was much enjoyed by the rowers and crowds, which filled the river bank even if we didn't beat St George's Ascot and Mossbourne. W. Harper put on impressive effort in the final of the Boys' J16 singles, finishing second in the event to an athletic performance from the Christchurch sculler that won.
This week we look forward to some inter-house races on the ergo and selected small boats and on Friday night, the Henley Royal Regatta Qualifiers event will be held, with our school crew racing at 7.30pm.