Oratory Rowers take part in the National Schools Regatta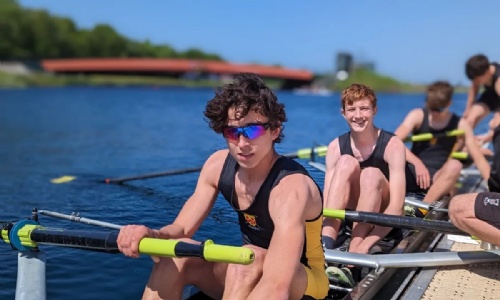 During the first weekend of half term, Oratory Rowers from 3rd, 4th and 5th Form took part in the National Schools Regatta at Dorney Lake (Olympic Venue), which is the biggest Junior regatta and second biggest regatta at any age in the UK.
The National Schools Regatta was 3rd Form's first ever race and the second year of competing for the 4th and 5th Form crews. The standout crew were the 5th Form Double of W. Harper and F. Karstens, who in one of the most competitive events of the regatta qualified for the B final & narrowly missed out on the A final by 3 seconds. Overall, they finished 13th out of 39 crews.
Another highlight was the girls' 3rd Form crew, coxed quad of L. Maynard, R. Mcmahon, A. Maynard, S. Thompson and H. Stevenson, who in their first ever race put in an impressive performance, overtaking a crew in their time trial and beating 8 other crews on time.
Well done to all crews who competed over the weekend and who gained valuable race experience.