The Oratory Celebrates World Book Day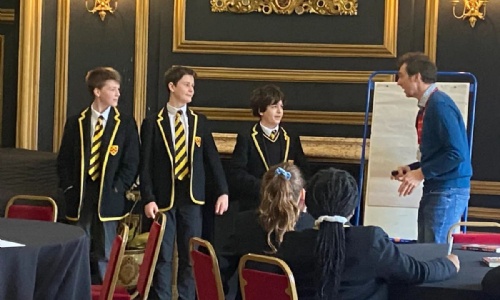 In Oratory English we celebrated World Book Day in style with a school-wide challenge to work out 'What OS teachers are currently reading'. The books were an eclectic selection, from Simon Sebag-Montefiore to Richard Osman, pupils certainly had to rack their brains to try and work out which book belonged to its owner!
We were delighted to welcome award-winning children's author, Christopher Edge, to The Oratory who gave talks on his latest novel 'Escape Room' to pupils in the 1st and 2nd Form. It was a fascinating and interactive morning as Christopher led pupils through a virtual escape room with riddles and puzzles to solve, in order to explore some of the ideas in the book. Pupils also had the opportunity to find out about the science behind his books and the writing process.
Designated by UNESCO as a worldwide celebration of books and reading, World Book Day is marked in over 100 countries around the globe and is celebrating its 26th year. World Book Day changes lives through a love of books and reading. As a charity that operates in the UK and Ireland, its mission is to promote a life-long habit of reading for pleasure and here at The Oratory it is a mission we wholeheartedly endorse.