Loquitur Talk with former School Captain, Alexander Caraffi (OS 1998-2003)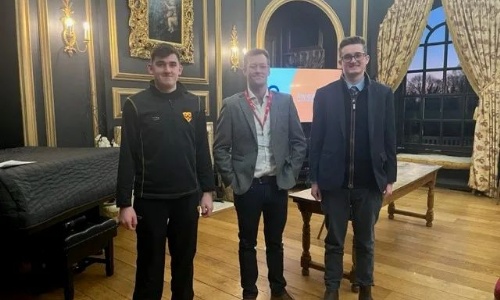 We were delighted to welcome former School Captain Alexander Caraffi back to The Oratory School on Tuesday.
Alexander spoke to our 6th Form pupils about his memories of the OS and his time spent after his A Levels working on a farm in central Queensland, Australia. That year turned out to be hugely formative both personally and from a career perspective, as he discovered that there were careers out there that combined both physical capabilities and strategic thinking. He returned to the UK, attended Harper Adams University and graduated with a degree in Land and Farm Management.
He recalls: "much time was spent on a farm in my early twenties and I had an amazing time, being physically and intellectually challenged. Perhaps it is only because I don't come from a farming family, but the land-based industry always throws out something new and this became even more apparent as I moved into a career in farm business consultancy. Travelling the UK, meeting hundreds of different people, in hundreds of different places and facing thousands of micro and macro challenges has been hugely stimulating. Alongside the changing face of the world we live in, I have developed a passion for agro-ecological land management."
He explained to our pupils that with the climate and biodiversity crisis resonating loudly in everybody's ears, the land-based sector is a place of huge opportunity. It is a place where the physical and intellectual meet and somewhere that many people with all sorts of skill sets can find a home, from biochemists to geneticists, engineers and business consultants.
Alexander then spent some time speaking to two of our pupils interested in pursuing a similar career path.
Thank you, Alexander, for an inspiring talk.