Oratory 2nd Form visit the London Science Museum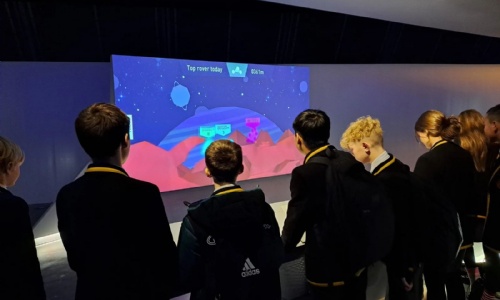 On Monday 14 November, 2nd Form pupils began their day with an awe-inspiring trip around our world, viewing our magnificent blue planet, dotted with gossamer clouds and gleaming in sunlight, in mind-boggling 3D at the London Science Museum Imax. They were able to look through the eyes of astronauts on the International Space Station (ISS), witness breath-taking views of Earth and learn about the trials and tribulations of life onboard the ISS in 'A Beautiful Planet'.
Next up was the world-first Cancer Revolution: Science, Innovation and Hope exhibition. Containing over 100 objects and numerous personal accounts, pupils learned about the incredible progress we have made in understanding this disease, from a 24-minute surgery (without anaesthetic) to remove a tumour in the 1800s, to the ground-breaking techniques currently being developed for diagnosing cancers using a sponge or light.
After lunch, we visited the Engineering Your Future exhibit, where interactive challenges, games and films allow teens considering their future occupations to understand what engineers do. Pupils could design a space rover that would travel the furthest across a challenging alien landscape full of jumps, boulders and slopes. By the time we left, Leon V-B's design still held the daily record! They could also play games to build and test systems inspired by some seriously complex engineering, from electrical grids to rail networks and baggage handling systems.
There was even time left for a wander through the space and flight galleries and, of course, the highlight of every child's day, a visit to the gift shop!