6th Form Loquitur Talk with Maj Georges Strachan-Heyes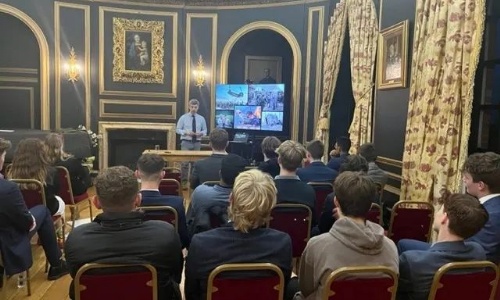 Old Oratorian Georges Strachan-Heyes (OS 1992-1999) delivered an excellent talk to 6th Form on Tuesday 8 November as part of our Loquitur series.
Georges currently works at the Army Personnel Centre in Glasgow, where he manages the individual careers of all Lieutenants, Captains and Majors across a quarter of the Army's Infantry Regiments. His bespoke talk was based on his experiences at The Oratory School, university and his life in the military.
With such an early interest in the CCF, Georges was clearly destined for a Military career, having gained an Army Scholarship experience at the age of 16 and going on to pass the British Army's Regular Commissions Board aged only 17. Georges spoke very candidly to our pupils about his posts in Germany, the USA and Cyprus, as well as his tours of Afghanistan and Iraq.
When asked about his career, he said "I have been extraordinarily lucky with my career since leaving The Oratory School but I am left in no doubt that the values and moral compass that I carry with me today was forged at the Oratory School. Its compassionate, pastoral and ethical view on nurturing young people ready for the challenges of a modern and deeply complex world are behaviours that I sought to exhibit as best I could when, as a Major, I was honoured to be given command of an Infantry Company of 120 soldiers, to train, manage, develop and ultimately lead on operations."
Thank you to Georges for his superb and inspiring talk.