Oratory Rugby's Centenary Fixtures v London Oratory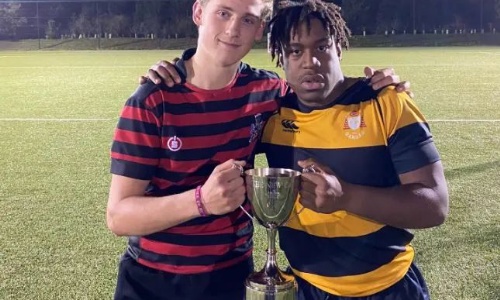 The Oratory School marked its Rugby Centenary with matches against The London Oratory at Grasshoppers RFC in London on Wednesday 19 October.
Matches were played throughout the day from U14 level to 1st XV and were live streamed on YouTube by NextGenXV, one of the country's leading streamers of school rugby. The U14s kicked off the day with a 26-17 victory. The U15s won their fixture 15-12, whilst the U16s narrowly lost 20-17. The 1st XV's match fittingly culminated the day with a try from T. Rume-Tabiowo and a conversion from S. Monye to force a 19-19 draw.
The school's first ever rugby match was played on October 18th 1922 against Sandhurst Old Soldiers. The then school magazine reported: "Three weeks after first starting Rugger we played our opening match. The form displayed was most promising, and the XV were very keen. Allies at fullback and P. Robinson played especially well. The first half was very well contested, but our opponents scored two tries. In the second half Hayes and Townley very nearly scored for us. The Sandhurst team then scored four tries, one of which was converted with a very fine kick."
From humble beginnings, rugby has gone from strength to strength over the course of the last century and remains an important part of the culture of life at The Oratory. Recent alumni have included international sevens players Morgan MacRae, Ollie Monye and Max Clementson, the former pair commentating on the 1st XV match.
Head of Rugby Mikey Hennessy says: "It was a great celebration of rugby in the school and something I'm sure the pupils enjoyed being a part of. Rugby is well supported at The Oratory and we are fortunate to have so many pupils who want to play. This year we will run non-contact rugby, sevens and 15-a-side rugby as well as continuing to try and enhance our girls' rugby provision in the school."
This day was part of wider events going on throughout the school year, which will include evening matches at Henley RFC, Saracens' StoneX Stadium, an overseas tour and a former Captains' lunch. It will culminate with a formal black tie dinner at Twickenham in May.
Watch the highlights here: